DuraStor™ Prestressed Concrete Tanks
DuraStor™ Tanks are prestressed concrete storage tanks reinforced with post-tensioning tendons (governed by AWWA D115 and ACI 350). High strength steel tendons apply compression to the tank floor, walls, and roof to counteract the applied forces and provide residual compression. This method actively reinforces the structure and enhances its watertightness and long-term durability.
Suitable for liquid and granular material storage, DuraStor™ Tanks can be constructed in various shapes with capacity ranges from 250,000 to 50 MG+ to suit project needs.
Compared to other tank alternatives including steel, conventional and AWWA D110—DuraStor™ Tanks offer geometric flexibility, stricter watertightness standards and may offer a significant savings in construction and long-term maintenance investments.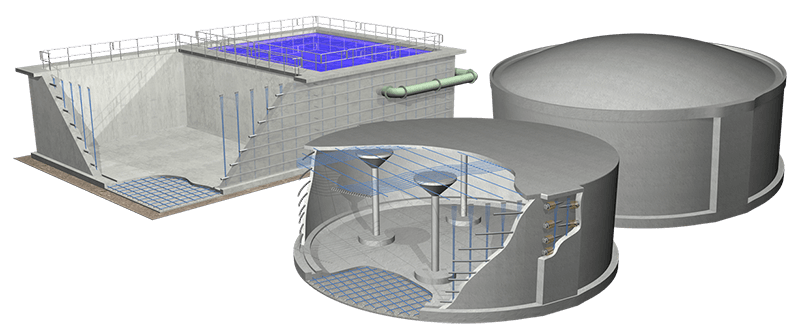 Reinforced with VSL Post-Tensioning Products
DuraStor™ Tanks are reinforced with VSL post-tensioning systems – which have been used as the industry standard for post-tensioning throughout the world. To offer the most durable tank solution on the market, DuraStor™ Tanks are constructed with unbonded post-tensioning in the floors and roofs, while tank walls are constructed with both unbonded and bonded post-tensioning systems.
STRUCTURAL TECHNOLOGIES is the exclusive manufacturer of VSL post-tensioning products and construction systems in the United States.
Unbonded Monostrand Post-Tensioning Systems
Unbonded Monostrand Post-Tensioning Systems
We offer a variety of anchorages and corrosion protection features for both 0.5" and 0.6" strands allowing great flexibility in meeting design and durability requirements.
Bonded Multistrand Post-Tensioning Systems
Bonded Multistrand Post-Tensioning Systems
We offer a variety of anchorages that can be designed to hold up to 55 strands in duct, and encased in grout to provide optimum corrosion protection.
Tank Support Services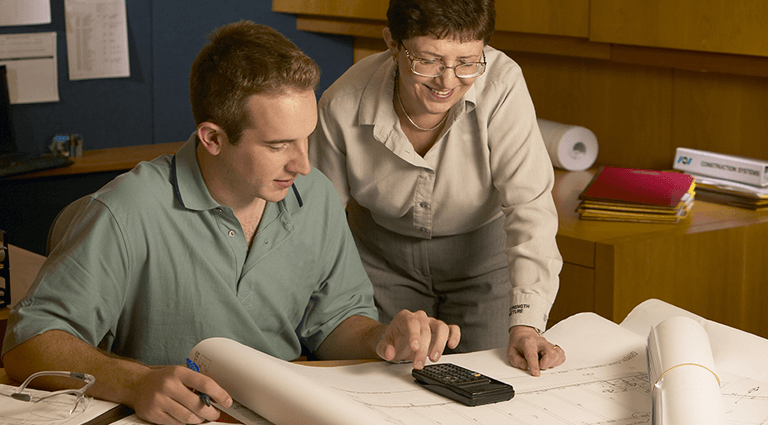 Preliminary designs & estimates
Performance specifications
Bidding assistance
Structural design
Plans & specifications
Supply of prestressing systems & equipment
Installation, training support
QA/QC support
Value engineering
Repair, Strengthening & Modification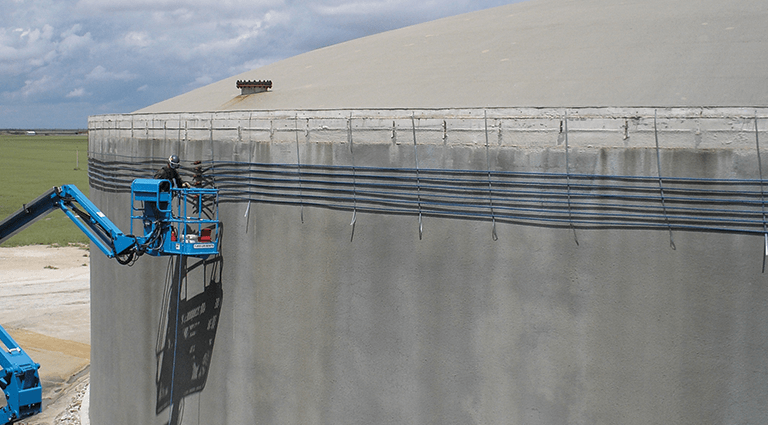 Inspection & maintenance programs
Repair & modification
Structural rehabilitation
Water Infrastructure Engineering Support
STRUCTURAL TECHNOLOGIES' Water Infrastructure Team is focused on developing solutions that make critical water treatment, storage and delivery systems stronger and last longer. This team supports clients with options analysis, technical support, engineering, specifications and project oversight.
Pipeline & Water Infrastructure Team Leader
Design-Assist & Engineered Product Support
• Investigation Support
• Solution Development
• Budget Development
• Specification Assistance
• Constructability Consulting
• Application Engineering
• Quality Control Programs
• Project-Specific Design-Assist

DuraStor™ Tank Advantages
Durable
DuraStor™ Tanks utilize post-tensioned reinforcement, which eliminates joints in floors and roof slabs and provides crack-free concrete throughout the structure.
Expedited Schedule
Construction methods for DuraStor™ Tanks allow for larger concrete placements, completion of simultaneous tasks, utilize readily available equipment and can be built in all weather conditions.
Watertight
DuraStor™ Tanks have been constructed and found to have no measurable leakage when tested for watertightness.
Economical
DuraStor™ Tanks have resulted in up to 25% cost savings compared to conventionally reinforced tanks by reducing materials, labor, construction schedule and ongoing maintenance. They are also cost competitive with D110 prestressed tanks.
Versatile
DuraStor™ Tanks can be designed into any shape, giving designers total flexibility to utilize them for a variety of water / wastewater applications and to maximize available space.
Accessible
DuraStor™ Tanks may be built with as little as 3′ of exterior access – allowing designers to maximize site useage and tank volume.
Aesthetic
DuraStor™ Tanks can be finished with a variety of coatings, colorings and textures to enhance their appearance or to blend into its surroundings.
Modifiable
The spacing of post-tensioning tendons allows for modifications and openings to be made pre or post construction in DuraStor™ Tanks
Featured Prestressed Concrete Tank Case Studies