Specialized Solutions for Process Piping
STRUCTURAL TECHNOLOGIES provides products, design support and turnkey installation for process piping repair. Our upgrade solutions strengthen leaking, damaged and/or weakened pipelines. We develop comprehensive technical solutions for critical process piping found within industrial facilities including refineries, chemical processing plants and power generation stations.
Products & Design Support
From the identification of pipe repair needs, to selecting the proper product solution, STRUCTURAL TECHNOLOGIES pulls from its own line of industry proven products or other industry leading solutions. Our repair solutions include rapid response to analyzing your problem, recommending the proper design solution and providing the proper product utilizing state-of-the-art composite systems that match your performance and construction windows in order to eliminate disruption to ongoing operations.
Turnkey Solutions
When STRUCTURAL TECHNOLOGIES teams with one of our repair and maintenance companies – we provide turnkey single source investigate, design, repair and warranty for process piping repairs and renewal programs with construction crews that have years of industrial experience with safety and quality programs that lead the industry.
Applications
Above-ground process piping
Tanks and other pressure vessels
Buried piping
Process piping
Transmission & distribution piping
Chemicals, oil, gases, water & steam lines
Flares & blowdowns
Girth welds on vessels & pipelines, straights, elbows, tees, reducers
Pipe Materials Addressed
Carbon steel
Stainless steel
Ductile iron
Reinforced concrete
Prestressed concrete
Polymer
FRP
Corrugated metal
Products for Process Piping
STRUCTURAL TECHNOLOGIES' V-Wrap™ product line features high strength glass and carbon fabrics along with a chemical resistant 100% solids epoxy. Specially formulated to cover a wide array of industrial repair needs, the V-Wrap™ system is custom designed for each repair application.
V-Wrap™ composite systems are ICC certified and designed in accordance with all major pipeline standards including ASME PCC-2. Additionally, our teaming relationship with NRI allows us to meet high temperature and/or chemical resistance applications. Through continuous research and development, we assist pipe owners by delivering innovative repair and renewal products which increase the reliability of their critical process piping.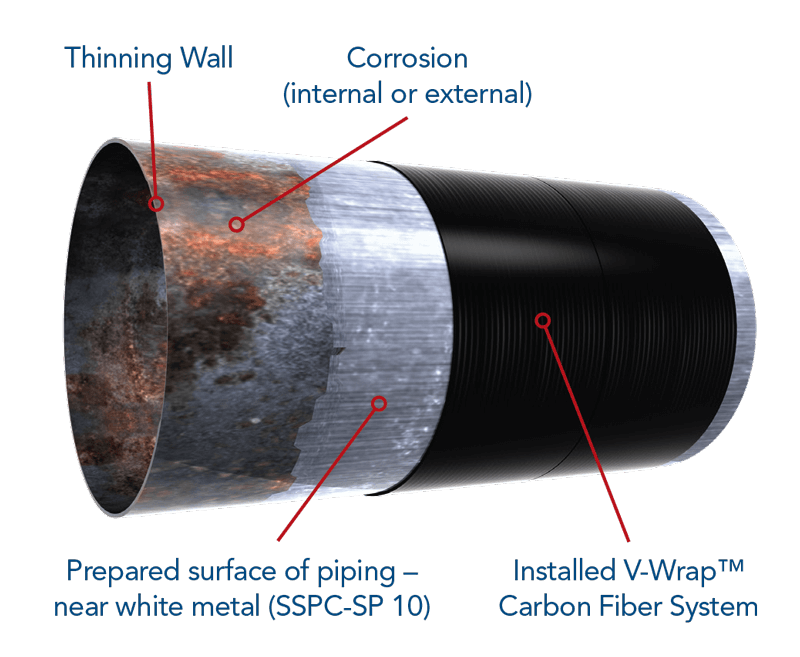 V-Wrap™ Cured Laminate Design Values
V-Wrap™ Fabric
EG50
EG50B
C200HM
C400HM
E-Glass
E-Glass
Carbon
Carbon
Strength per Unit Width
3,340 lbs/in.
1,100 lbs/in.
6,800 lbs/in.
13,600 lbs/in.
(585 N/mm)
190 N/mm
(1,190 N/mm)
(2,380 N/mm)
Ultimate Tensile Strength
66.72 ksi
32.40 ksi
170 ksi
170 ksi
(460 MPa)
(223 MPa)
(1,172 MPa)
(1,172 MPa)
Modulus of Elasticity
3,030 ksi
2,160 ksi
15,500 ksi
15,500 ksi
(20,900 MPa)
(14,900 MPa)
(106,870 MPa)
(106,870 MPa)
Elongation at Break
1.76%
1.20%
1.10%
1.10%
Nominal Ply Thickness
0.05 in.
0.034 in.
0.04 in.
0.08 in.
(1.3 mm)
(0.864 mm)
(1.02 mm)
(2.03 mm)
Properties provided are for above-listed fabrics saturated with V-Wrap™ 770 Epoxy.
Pipe Rehabilitation Engineering Support
STRUCTURAL TECHNOLOGIES' Pipe Rehabilitation team provides valuable insight and assists in developing comprehensive technical packages for pipeline owners and consultants.

Pipe Rehabilitation Team Leader
Design-Assist & Engineered Product Support
• Investigation Support
• Solution Development
• Budget Development
• Specification Assistance
• Constructability Consulting
• Application Engineering
• Quality Control Programs
• Project-Specific Design-Assist