StrongPIPE® V-Wrap™ Carbon Fiber Pipe Strengthening System
StrongPIPE® V-Wrap™ Structural Carbon Fiber is a structural strengthening system for the restoration and renewal of concrete, metallic and polymer-based pipelines. The system has been tested and meets or exceeds durability requirements (ICC-ES) necessary to provide the desired service life for pipeline structures.
StrongPIPE® V-Wrap™ Carbon Fiber (CFRP) systems are comprised of high-strength carbon fibers fully saturated in a 2-part 100% solids epoxy matrix. These thin, low-profile laminates are bonded to the interior or exterior of pipelines forming a composite lining with the existing host pipe structure.
Applied both longitudinally and circumferentially, the StrongPIPE® V-Wrap™ system is layered to meet specific design requirements. Working with STRUCTURAL TECHNOLOGIES, owners and consultants receive comprehensive design and technical support from project start to implementation in the field.
Fully structural carbon fiber repair system – custom designed to address all internal pressure and external loads
Low profile system (typically 3/8-inch to 1-inch)
Long term lifecycle extension of pipeline assets
Segmental repairs or extended reaches of pipe, fits straight and curved pipe sections (virtually any pipe geometry)
Restores full functional capacity of distressed, degraded or damaged pipelines
Upgrade the structural capacity of an existing pipe allowing increased operating pressure
Maintains water tightness of pipe under changing conditions of original pipe
NSF 61 and Annex G certified for drinking water pipelines
ICC-ES approved – meeting or exceeding industry standards for long-term durability
No excavation needed – access through standard manholes
Minimal downtime and impact to operations
StrongPIPE® V-Wrap™ Cured Laminate Design Values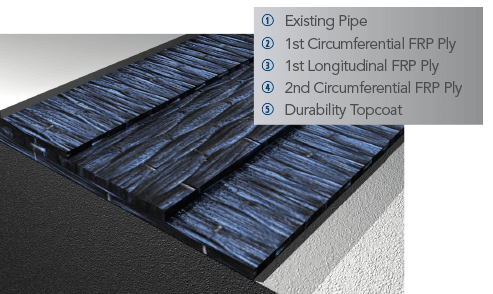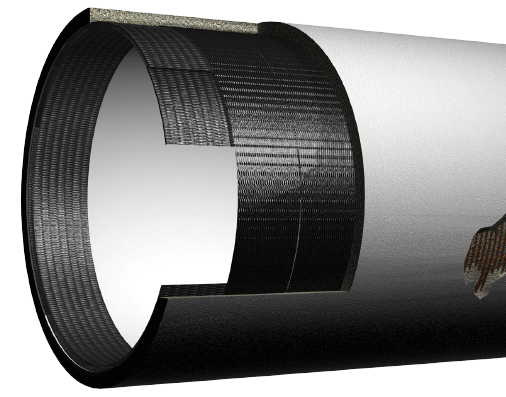 V-Wrap™ Fabric
EG50
E-Glass
EG50B
E-Glass
C200H
Carbon
C400H
Carbon
C200HM
Carbon
C400HM
Carbon
Strength per Unit Width
3,291 lbs/in. (0.58 kN/mm)
1,527 lbs/in. (0.27 kN/mm)
6,000 lbs/in.
(1,050 N/mm)
12,000 lbs/in.
(2,100 N/mm)
7,200 lbs/in. (1.26 kN/mm) )
14,400 lbs/in. (2.52 kN/mm)
Ultimate Tensile Strength
82,280 psi (567 MPa)
89,800 psi (620 MPa)
150 ksi
(1,034 MPa)
150 ksi
(1,034 MPa)
180,000 psi (1,241 MPa)
180,000 psi (1,241 MPa)
Modulus of Elasticity
3.87 x 106 psi (26,680 MPa)
4.6 x 106 psi (31,700 MPa)
10,700 ksi
(73,770 MPa)
10,700 ksi
(73,770 MPa)
14.24 x 106 psi (98,181 MPa)
14.24 x 106 psi (98,181 MPa)
Elongation at Break
2.13%
1.94%
1.40%
1.40%
1.27%
1.27%
Nominal Ply Thickness
0.04 in. (1.016 mm)
0.034 in.
(0.864 mm)
0.04 in.
(1.02 mm)
0.08 in.
(2.03 mm)
0.04 in.
(1.02 mm)
0.08 in.
(2.03 mm)
Properties provided are for above-listed fabrics saturated with V-Wrap™ 770 Epoxy.
Pipe Rehabilitation Engineering Support
STRUCTURAL TECHNOLOGIES' Pipe Rehabilitation team provides valuable insight and assists in developing comprehensive technical packages for pipeline owners and consultants.

Pipe Rehabilitation Team Leader
Design-Assist & Engineered Product Support
• Investigation Support
• Solution Development
• Budget Development
• Specification Assistance
• Constructability Consulting
• Application Engineering
• Quality Control Programs
• Project-Specific Design-Assist