Specialized Services & Products for Delayed Coking Units
Delayed coking units and their production process create an environment that can lead to deterioration of various components. Elevated temperatures, dynamic loading and vibrations and impact damage can create problems, that if left unaddressed, can diminish the reliability and safety of the unit.
Investigation
STRUCTURAL TECHNOLOGIES has industry-leading experience providing condition assessment of various civil and structural elements of coking units. Our services are comprehensive – offering a range of testing tailored to each client's specific needs. The objective of a comprehensive condition assessment is to identify the root cause of problems and the level of damage.
Products & Design Support
We offer a diverse range of specialty products and design support, including vibration resistant and rapid curing concrete materials – to help design repair programs to extend the service life of delayed coking units.
Turnkey Solutions
When STRUCTURAL TECHNOLOGIES teams with one of our repair and maintenance companies – we offer our turnkey Investigate-Design-Build (IDB) approach to provide a seamless process from initial design through installation with single-source responsibility. This approach is ideally suited for clients looking to perform repair and maintenance during scheduled turnarounds and outages.
We Assess, Design & Implement Repair Programs for:
Tabletops
Octagonal / Circular Penetrations
Anchor Bolts & Bearing Assemblies
Coke Pits & Wall Extensions
Switch & Head Decks
Columns
Beams
Support Structures
Sluiceways
Steel Derricks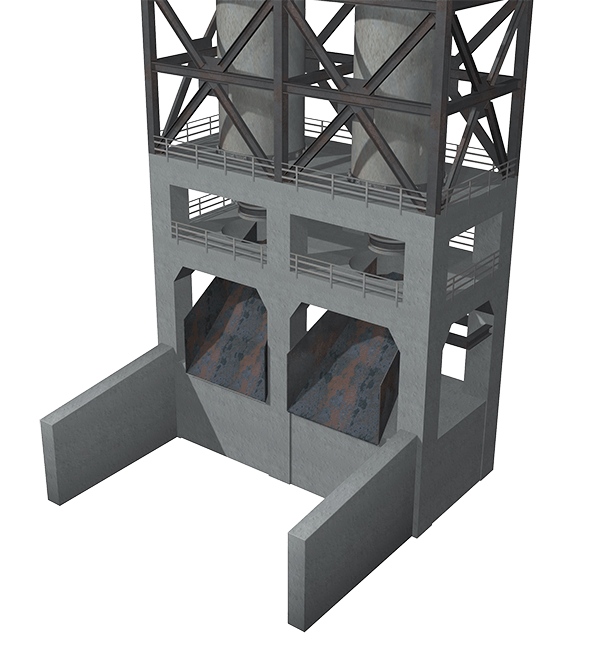 Evaluation & Design Services for Delayed Coking Units
STRUCTURAL TECHNOLOGIES provides a wide range of services to evaluate structural components of coking units. These services, tools and techniques are designed to identify deterioration trends early, determine their root cause, and develop plans to maintain, repair and extend their service life.
Online Condition Assessment
Online Condition Assessment
We have developed various testing methods that can safely be performed on various coking unit elements while online to assess a structure's condition.
Offline Condition Assessment
Offline Condition Assessment
When delayed coking units are in turnarounds, we provide testing of areas that are inaccessible during normal operations to provide full condition assessment.
Design & Engineering
Based on findings from our assessment services, we analyze data and engineer repair programs for coking units utilizing our proven systems for repair and rehabiliation – tailored for each unique project.
Concrete Repair Engineering Support
Our solution-building teams have the experience to assist in developing a range of alternatives, and provide a range of services including investigation support, solution development, cost and constructability consulting, and design assistance to help project teams select the best potential solution.
Concrete Repair Team Leader
Design-Assist & Engineered Product Support
• Investigation Support
• Solution Development
• Budget Development
• Specification Assistance
• Constructability Consulting
• Application Engineering
• Quality Control Programs
• Project-Specific Design-Assist

Specialized Products for Delayed Coking Units
Tstrata IRC™ Rapid Cure Concrete Restoration Material
Tstrata IRC™ Rapid Cure
Concrete Restoration Material
Tstrata IRC™ is a specially formulated, one part microsilica modified concrete restoration material with integral corrosion inhibitor designed specifically for restoration of coking unit structures.
Coke Chute Plate Protection System
Coke Chute Plate Protection System
Innovative system featuring durable steel plates to provide long-term protection for coke chutes.
Tstrata Coke Pit Wall™ System
Tstrata Coke Pit Wall™ System
Precast wall panels are fabricated offsite for rapid installation and long-term durability in coke pit walls and containment structures.
Tstrata Enlargement Systems™
Tstrata Enlargement Systems™
Structural strengthening systems utilized to increase load carrying capacity of coking unit structures for upgrade or prior to new equipment installation.