Polyshield® Foundation / Baseplate Systems
The Polyshield® polymer concrete baseplate and foundation system is the superior solution for cost-effective, high-performance pump installations. This single, complete unit replaces the traditional baseplate and concrete foundation for pump-driver sets.
STRUCTURAL TECHNOLOGIES' Polyshield® is the preferred pump foundation solution that takes advantage of the unique properties of polymer concrete. As a chemical-resistant foundation system that is easily put into place, then filled with standard concrete, the Polyshield® system can be completely installed and operable in less than two days.
Once installed, your Polyshield® system will provide excellent corrosion resistance over the long term, as well as vibration damping and resistance to twisting and diaphragming.
ANSI Polyshield® Systems
STRUCTURAL TECHNOLOGIES' ANSI Polyshield® is a one-piece polymer concrete foundation and baseplate shell and a removable polymer concrete motor block. Pumps and motors are bolted to the polymer surface with cast-in alloy inserts. Each polymer and motor block accomadates two NEMA (IEC) frame sizes. Within limits, motor blocks may be changed to future frame sizes. Polymer motor blocks are supplied in different heights and insert locations for all ANSI group sizes and motor combinations. Eight pre-engineered foundation sizes for all ANSI and ISO frame designs with NEMA or IEC motors.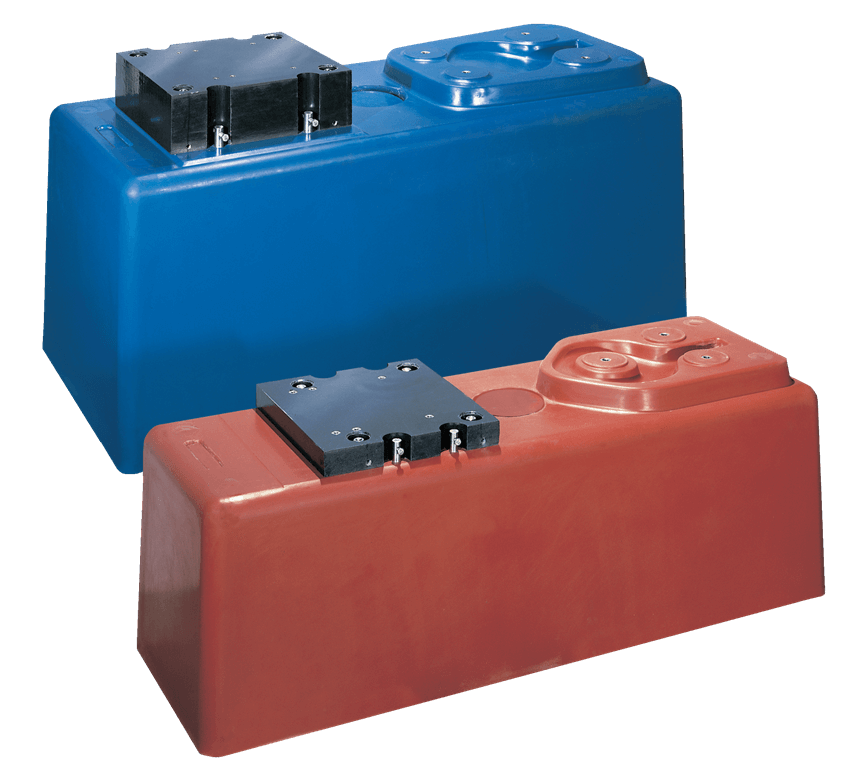 Standard Features:
Solid one-piece polymer motor mounting block. Removeable and replaceable for future NEMA (IEC) motor frames. Polyadjust transverse motor block adjusters (4) are standard.
Polymer surface provides 0.002 inch per foot coplanar flatness. Alloy mounting surfaces provide 0.002 inch per foot coplanar flatness.
Integral catch basin drain
Polymer concrete shell with high walls maximizing rigidity and torsional stiffness
Shells are self-venting while filling, internal walls are sloped venting to grout hole. Polymer grout plugs provided to seal grout holes.
Three different polymer concrete materials are stocked:
Novolac Epoxy (blue)
Novolac Epoxy (red)
Vinylester (dark blue)
Alloy inserts are stocked in:
316SS
Alloy 20
Hastelloy C
Other alloys are available
Custom Polyshield® Systems
STRUCTURAL TECHNOLOGIES' Custom Polyshield® is a polymer concrete foundation and baseplate shell with large and thick alloy mounting surfaces for affixing both the pump and motor. The unit is designed to accommodate large end suction, split case, double suction and axial flow pumps with NEMA and non-NEMA motor frames. Custom Polyshields allow large pumps and motors to be installed quickly and reduce installation cost compared to fabricated metal baseplates!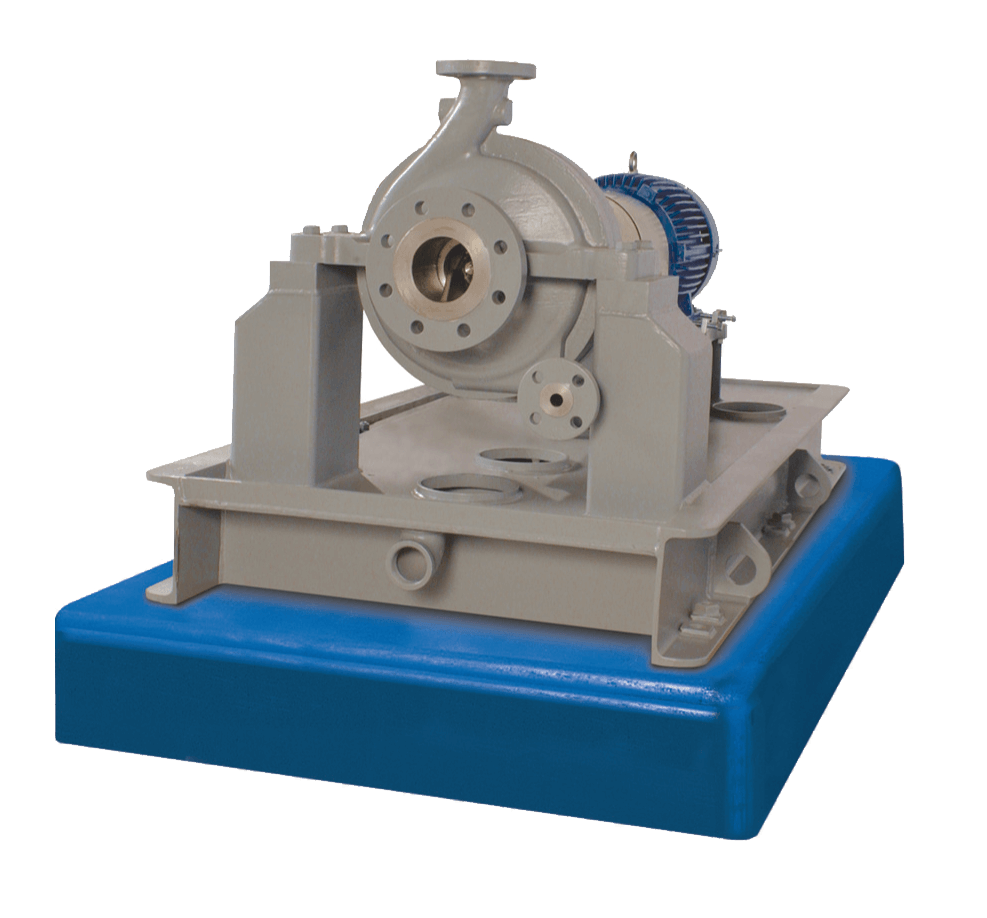 Design Features:
Large and thick alloy pads for affixing pump and motor.
Removable 316SS transverse jack bolts for motor adjustment.
Machine mounting pads coplanar flatness to 0.002"/ft.
Polymer Material Options:
Novolac Epoxy (blue)
Novolac Epoxy (red)
Vinylester (dark blue
Alloy inserts are stocked in:
316SS
Alloy 20
Hastelloy C
Other alloys are available
Polyshield® Improves Equipment Reliability
Life cycle costs for pumps and other equipment decrease significantly due to improved unit performance resulting from:
High vibration damping characteristics
Longer seal, bearing, and coupling lif
Longer Mean Time Between Planned Maintenance (MTBPM)
Low maintenance requirements
No paint peeling
No baseplate or foundation deterioration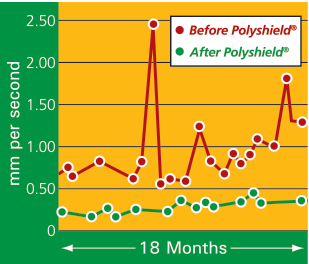 Polyshield® Reduces Total Installed Cost
Polyshield's pre manufactured shell and simple in place completion of the construction drastically reduces the downtime for repair and replacement and the total installed cost compared to conventional fabricated concrete foundations and steel base plates. Along with up-front savings the Polyshield® system's corrosion resistance and proven track record provides longer life. Finally its inherent design and material composition provides greater stability and dampening capabilities that translate into not just a more durable foundation proven but longer life for the equipment it supports
Polyshield® replaces:
Concrete foundation, brick linings and coatings
Anchor bolts
Conventional baseplate
Grouting system
Typical installation savings
Total time reduced from 1 to 2 weeks to 1 to 2 days
70 to 80 percent reduction of required craft man-hours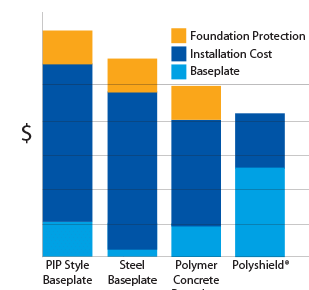 Total installed cost comparison
Equipment Foundation Design & Engineering Support
Equipment Foundation Testing & Analysis:
• Foundation vibration monitoring
• Finite element analysis
• Non-Destructive Testing (NDT)
• Semi-Destructive Testing (SDT)
Common Solutions for Foundations:
• Foundation repair & modification
• Grout replacement
• Anchor bolt repair & replacement
• Chock replacement
• Sole plate grouting & replacement
• Strengthening & post-tensioning
Design-Assist & Engineered Product Support
• Investigation Support
• Solution Development
• Budget Development
• Specification Assistance
• Constructability Consulting
• Application Engineering
• Quality Control Programs
• Project-Specific Design-Assist

Equipment Foundation Repair & Maintenance Services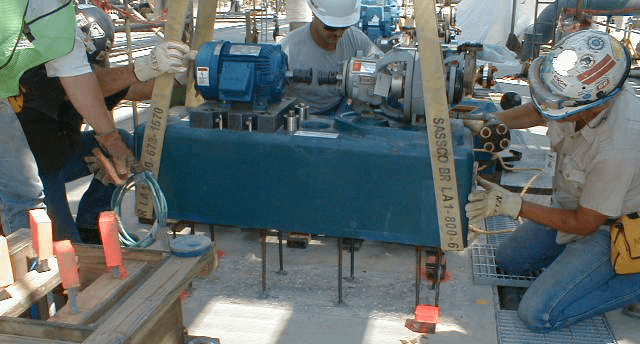 STRUCTURAL TECHNOLOGIES' contracting companies have offices across the United States and the Middle East – providing industry-leading repair and maintenance services to make structures stronger and last longer. When installing STRUCTURAL TECHNOLOGIES' equipment foundation products and systems, our contracting companies provide our clients with the reassurance that our technology solutions are being installed by experienced professionals with the highest standards for quality control and safety.
Integrated Investigate-Design-Build Solutions
Combining repair services, engineered products and engineering support services in conjunction with its engineering partners, STRUCTURAL TECHNOLOGIES' companies provide an integrated Investigate-Design-Build (IDB) approach to provide a seamless process from initial design through installation with single-source responsibility.