Civil & Structural Assets: The Foundation of Your Business
Owners and operators of industrial, processing, manufacturing and power generation facilities depend on the reliability of process equipment to sustain production and profitability. Most of this equipment is supported and protected by civil and structural infrastructure – typically reinforced concrete and structural steel. While these assets are known for their longevity – environmental factors such as high temperatures, corrosive chemicals, impact loads, vibration, and other factors can severely impact their service life. Even minor defects and damage found in infrastructure can impact the reliability and productivity of the equipment it is designed to support.
STRUCTURAL TECHNOLOGIES provides a range of services to evaluate and manage civil and structural assets in industrial and power facilities. The process of deterioration or damage may take years to manifest itself, but the damage is exponential – worsening as time progresses – and develops into more expensive and extensive repairs.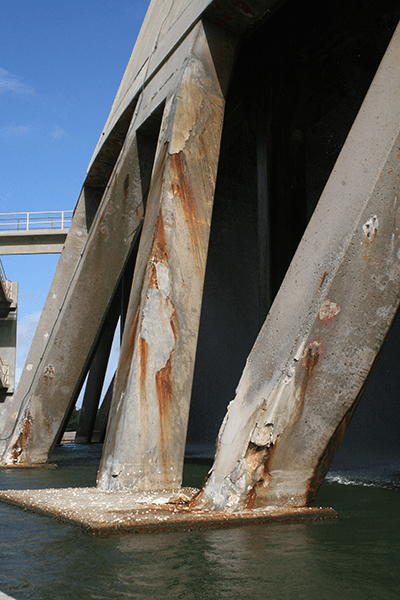 Evaluation Services
Our tools and techniques are designed to identify deterioration trends early, determine their root cause, and develop plans to maintain, repair and extend the life of civil and structural assets – improving the reliability of your facility. By incorporating the capabilities of our contracting companies and their experience working in industrial and power facilities, we can provide alternative solutions – enhanced by constructability analysis to optimize repairs, lower costs and ensure proper phasing, safety and schedule. This collaboration also allows us to offer conceptual budget estimates as an optional service.
Condition Assessment
We offer a range of testing and deliverables based on the needs of the owner and the project. The objective of a comprehensive condition assessment is to identify the root cause of problems and the level of damage.
Service Life Modeling
Utilizing field data and samples gathered during a condition assessment, we develop a detailed service-life evaluation utilizing the STADIUM® durability model.
Design & Engineering
With a thorough understanding of a problem's root cause, we develop detailed designs that incorporate both STRUCTURAL TECHNOLOGIES' proprietary and other products into a comprehensive solution.
PCMS™ - Plant Condition Management System
PCMS™ – Plant Condition
Management System
PCMS™ is an approach to evaluate civil and structural assets throughout a plant, identify deterioration trends and prioritize repair and maintenance programs – before serious problems occur.
Specialized Solutions
STRUCTURAL TECHNOLOGIES has developed specialized evaluation techniques and proven repair methodologies for a variety of structures found in industrial and energy facilities, including:
Chimneys & Stacks
Inspection, repair and modification solutions for chimneys, stacks and other flue gas path system structures.
Sulfur Pits
Durable, rapid installation repair solutions for below grade molten sulfur containment structures
Delayed Coking Units
Specialized solutions for repair and upgrade of various components of coking units including support structures and material handling areas.
Docks & Piers
Specialized repair and protection solutions for docks, piers and other waterfront structures.
Beams, Columns & Slabs
Tanks, Silos & Containments
Secondary Containment
Water Treatment
Fireproofing
Pipe Racks & Supports