ElectroTechCP™ State-of-the-Art Impressed Current Cathodic Systems
STRUCTURAL TECHNOLOGIES' ElectroTechCP™ ICCP (Impressed Current Cathodic Protection) systems are driven and controlled by proprietary power and monitoring devices that deliver precise levels of protective current to concrete and masonry embedded steel.
Based on the specific needs of a project, our cathodic protection specialists can design or assist our clients in the engineering of complete ICCP systems – integrating and delivering all major components engineered and manufactured by STRUCTURAL TECHNOLOGIES.
ElectroTechCP™ ICCP System Features:
Design Flexibility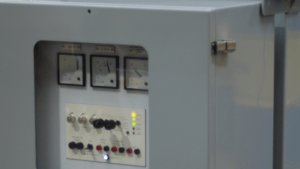 Variable power supplies combined with the most sophisticated controllers available allows for different levels of protection within a structure through multi-zone design and operation. Coupled with integrated monitoring and automatic output adjustment capabilities, our systems eliminate the risk of overprotection.
Adjustability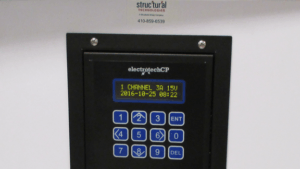 As conditions change, protection levels can be adjusted to optimize current flow and protection in order to maximize structure and system life and prevent overprotection.
Remote Monitoring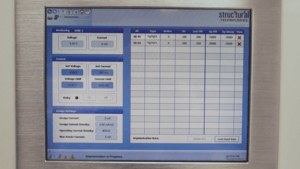 Proprietary control software allows for remote monitoring and adjustment by owners or by our expert technical support staff. System will alert operators when conditions change, equipment fails, or parameters are exceeded.
State-Of-The-Art ICCP Products
Main Control Unit (MCU) & Local Rectifier Units (LRU)
ElectroTechCP™ ICCP systems are comprised of a Main Control Unit (MCU) and a number of Local Rectifier Units (LRU). Each LRU can be a multi-channel unit capable of providing required protective current through each channel to specific zones. System operations and monitoring can be performed from both the MCU and LRU, allowing for redundancy of control.
System Monitoring & Remote Operation
ElectroTechCP™ ICCP Systems' integrated monitoring equipment enables rapid performance assessment and adjustment – allowing for optimal operation and corrosion protection. The MCU collects and stores system performance and operational data which can be accessed via our remote access system for evaluation. STRUCTURAL TECHNOLOGIES provides expert technical support to produce and custom program ongoing monitoring and system controls.
Cathodic Protection Systems Power Supplies
STRUCTURAL TECHNOLOGIES manufactures state-of-the-art cathodic protection power source supply systems featuring:
A wide and accurate range of current to accommodate different structural and environmental conditions.
Zone configuration for precise control of protection levels at different environmental exposures.
Proprietary remote control monitoring systems capable of integrating with other existing overall control systems.
Anodes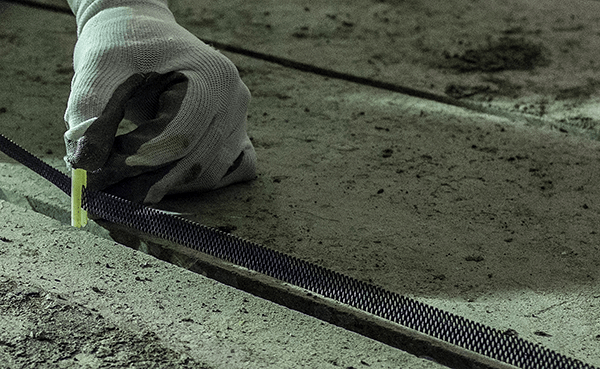 Designed to deliver protective current to where it is intended, our corrosion engineers help select the proper configuration and anode types, including:
Mixed Metal Oxide (mesh,wire, ribbon, probes, etc.)
Conductive Coating Anodes
Platinized wire
Conductive coatings
Corrosion Control Engineering Support
Our solution-building teams have the experience to assist in developing a range of alternatives, and provide a range of services including investigation support, solution development, cost and constructability consulting, and design assistance to help project teams select the best potential solution.
Corrosion Control Team Leader
Design-Assist & Engineered Product Support
• Investigation Support
• Solution Development
• Budget Development
• Specification Assistance
• Constructability Consulting
• Application Engineering
• Quality Control Programs
• Project-Specific Design-Assist