Repair & Modification of Post-Tensioned Concrete Structures: Products & Services
For the repair and modification of post tensioning (PT) systems as well as post-tensioned concrete structure repair and protection, STRUCTURAL TECHNOLOGIES, a Structural Group company, offers highly specialized products and services including investigation, repair design support, repair and replacement components, corrosion protection products, strengthening solutions as well as new or replacement post-tensioning systems.
Our specialized PT repair offering is designed to assist engineers, owners and contractors to maintain or extend the service life of their PT structures – by providing solutions throughout the entire process – from initial assessment through field implementation.
We help solve common problems with post-tensioned concrete:
Modifications
Damage
Deterioration
Design & construction error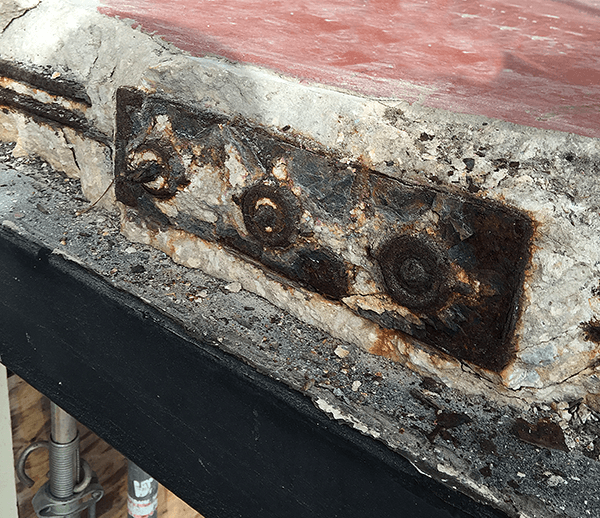 Post-Tensioning Repair 
Products
STRUCTURAL TECHNOLOGIES has an array of specialized products and systems used to repair, strengthen and protect post-tensioned structures. Our inventory includes product solutions for every component of a post-tensioning system – as well as specialized equipment used to install these systems in existing structures.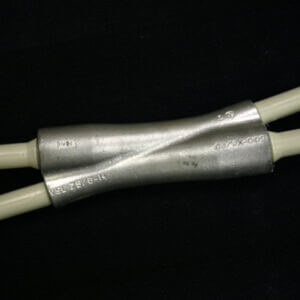 Unbonded PT Anchorages & Splices
STRUCTURAL TECHNOLOGIES has developed and provides various anchorages and splicing solutions for the repair and replacement of monostrand and buttonhead wire systems, including:
Center stressing anchors
Torque stressing anchors
Splice chucks
Buttonhead to monostrand combination anchorages
Live and dead end anchors
Lock off anchorages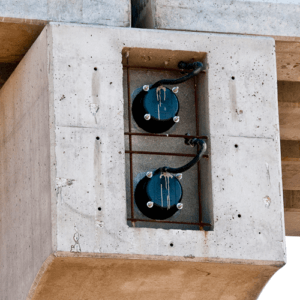 Bonded PT Anchorages
STRUCTURAL TECHNOLOGIES offers replacement anchorages for the repair of bonded multistrand post-tensioning systems, including:
Thin slab bonded anchorages (2 – 4 strands)
Bonded multistrand anchorages (4+ strands)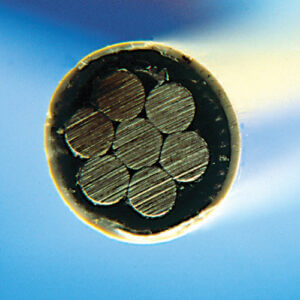 Strand Systems
STRUCTURAL TECHNOLOGIES provides high strength (270 ksi) strand to repair any type of post-tensioning system, including:
Sheathed strand
Bare strand
VStrand™ Heat Resistive Tendons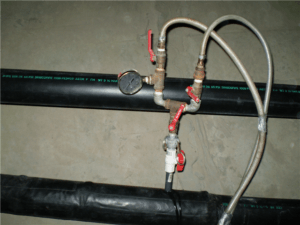 Bonded PT Duct & Grouting Systems

For repair of voids in bonded post-tensioning tendons, STRUCTURAL TECHNOLOGIES offers specialized products and materials, including:
VGrout+™ High performance admixtures for cementitious grout
HDPE plastic duct and mechanical coupler systems
PT Equipment
STRUCTURAL TECHNOLOGIES develops customized equipment for specific project needs and offers specialized equipment for the repair of post-tensioned concrete structures including:
Monostrand stressing rams
Multistrand stressing rams
Detensioning rams
Vacuum assisted grouting for bonded PT repair
Post-Tensioning Repair Design & Engineering Support
Whether repairing the post-tensioning system, or adding supplemental structural support, STRUCTURAL TECHNOLOGIES' in-house team of engineers provides application design support to provide value-added solutions to engineers and owners of concrete infrastructure.
Post-Tensioning Repair Team Leader
Design-Assist & Engineered Product Support
• Investigation Support
• Solution Development
• Budget Development
• Specification Assistance
• Constructability Consulting
• Application Engineering
• Quality Control Programs
• Project-Specific Design-Assist

Investigation & Assessment Support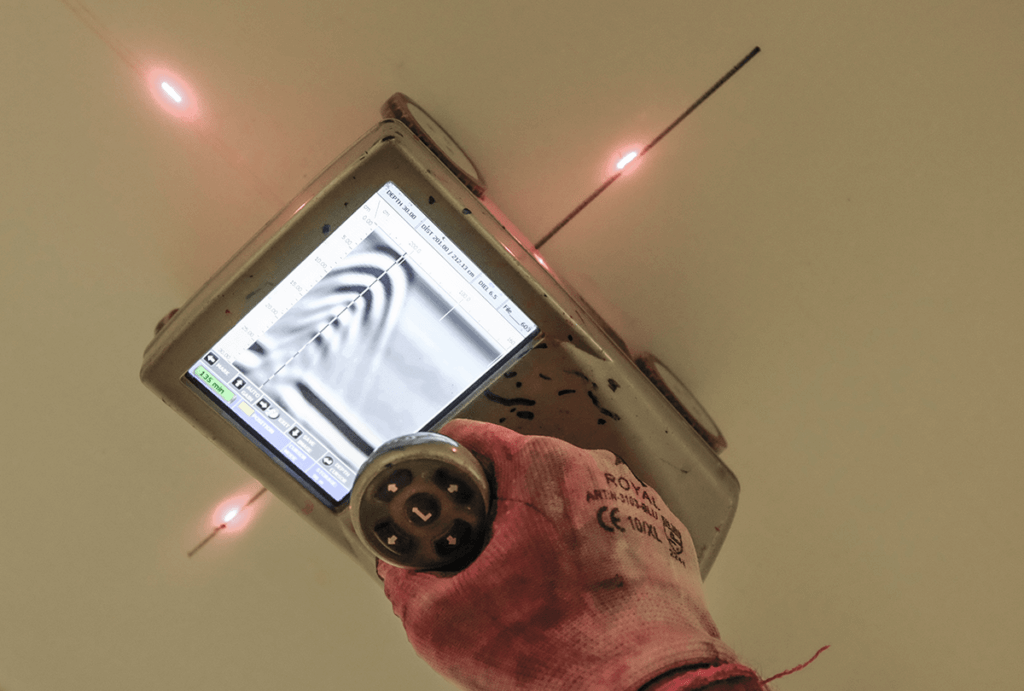 STRUCTURAL TECHNOLOGIES offers a range of specialized investigation services to assist engineers with the assessment of post-tensioned concrete structures. Our assessment services and phased approach are designed to identify the root cause of concrete and post-tensioning system deterioration.
A more thorough evaluation of a post-tensioned structure involves a variety of non-destructive and exploratory testing to determine the condition of the post-tensioning system and the surrounding concrete. STRUCTURAL TECHNOLOGIES also offers a series of advanced testing methods to gain detailed information on the condition of the structure – or to provide estimated remaining service life based on deterioration levels and exposure conditions.
Our assessment toolbox includes a variety of proven and advanced technologies, including:
Magnetic methods
Mechanical impact / wave propagation methods
Ground Penetrating Radar (GPR)
X-ray
Strand tension testing (monostrand, multistrand & stay cable systems)
Anchorage inspections
Borescope inspections for grouted tendons
High/low point inspections
Electrochemical testing & analysis
Engineering & Design Support Services
Whether repairing the post-tensioning system, or adding supplemental structural support, STRUCTURAL TECHNOLOGIES' in-house team of engineers provides application design support to provide value-added solutions to engineers and owners of concrete infrastructure.
Our design specialists have extensive experience, and are active members of technical organizations and committees including the American Concrete Institute (ACI) and the Post-Tensioning Institute (PTI).
During the design phase, we can also assist engineers by developing Finite Element Analysis (FEA) models to evaluate various repair solutions to predict future performance of the structure – to help select the best repair solution.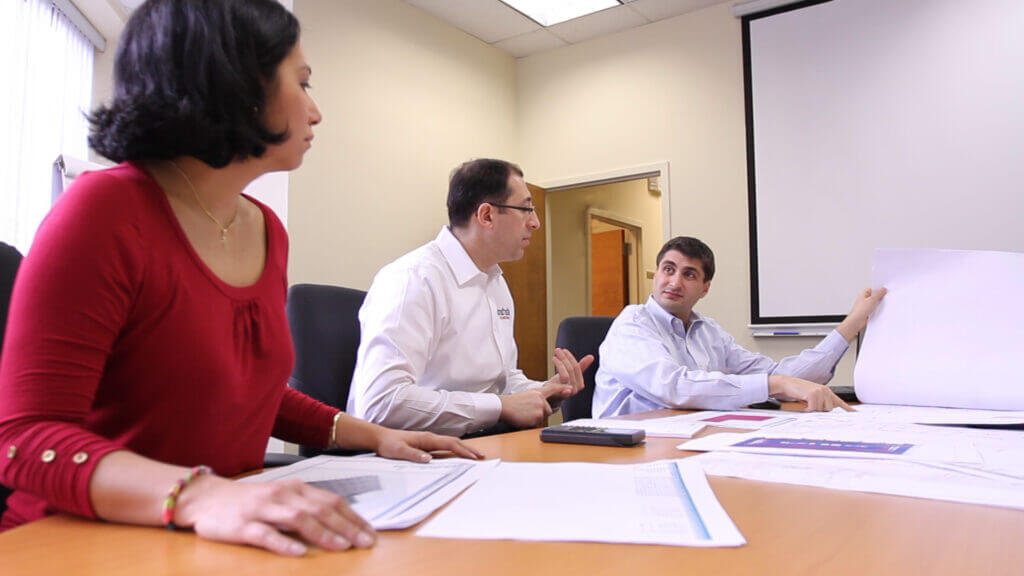 Installation: Specialty Contracting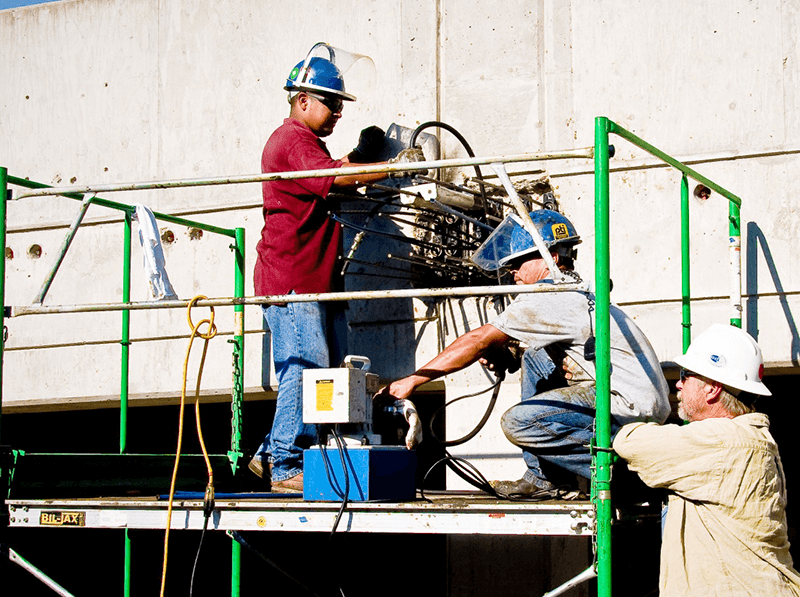 When teamed with Structural Group's specialty contracting companies – STRUCTURAL TECHNOLOGIES provides owners and operators a turnkey investigate-design-build approach from a single source of accountability.
Structural Group contracting companies have established stringent technical guidelines, tried and tested repair details, and quality standards for field procedures for post-tensioned structure repair. Our contracting partners provide specialized field leaders and crews – staffed with PTI certified technicians – to work closely with project teams from project pre-planning through completion.