How do you install an FRP structural liner?
For rehabilitation of pipelines, the installation of an FRP liner system is considered a bond critical application. There are many steps when it comes to installing an FRP structural liner and appropriate implementation of each step is crucial for successful installation and longevity of the system.
The first step begins with the dewatering of the pipeline and implementing ventilation and environmental controls. This is followed by the surface preparation, cleaning, and drying of the pipe substrate.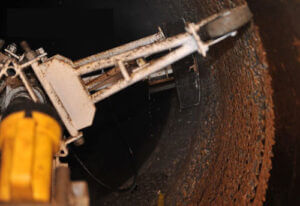 Surface preparation using water blasting equipment
The procedure for installation of the FRP material includes a mixing of epoxy and mechanical saturation of the reinforcing fabrics, priming the substrate with an epoxy primer and a layer of thickened epoxy, application of the saturated FRP to the inside of the pipeline substrate, implementation of end termination details for the FRP lining system, and finally cure of the FRP material.
One of the most important procedures for the installation of the internal FRP structural liner is adequate preparation of the pipe substrate to achieve sufficient bond of the FRP liner material to the host pipe and allow for proper load transfer between the FRP liner and host pipe.