Concrete Deterioration & Spalling Prevention System
The SHO-BOND Hybrid Sheet is an externally applied solution that improves the durability and safety of concrete infrastructure. The SHO-BOND Hybrid Sheet is a rapidly applied laminated membrane which prevents concrete spalling and mitigates falling debris. Additionally, this unique weatherproof spall protection system prevents degradation from chlorides, carbonization, and freeze-thaw.
Widely used in Japan, the SHO-BOND Hybrid Sheet protects highways, bridges, and other civil infrastructure where concrete deterioration and spalling can cause extensive property damage and safety hazards.
System Advantages
Prevents concrete spalling
Prevents chloride attack, carbonization, and freeze-thaw
Mitigates safety hazard of falling concrete
Expand the lifespan of concrete structure and reduce its lifecycle cost
Rapid installation with minimal disruption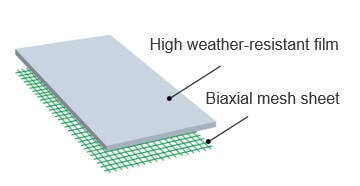 Installation
The SHOBOND Hybrid Sheet can easily be installed in high traffic areas with minimal disruption. Compared to other spall prevention methods, Hybrid Sheet offers an expedited installation and reduced construction and traffic control costs without sacrificing the level of protection.