Industrial & Power Webinars
STRUCTURAL TECHNOLOGIES will be hosting a series of webinars in February designed to provide education on civil and structural infrastructure topics in hydroelectric stations. Attendees will learn valuable information on best practices for condition assessment and repair of concrete structures and penstocks along with the latest state-of-the-art management practices for concrete degradation, corrosion and moisture challenges. A certificate of completion is available for each webinar. Click the register button for each webinar you would like to sign up for.
Repair and Protection: Moisture Control: Wednesday, March 3 @ 1-2PM EST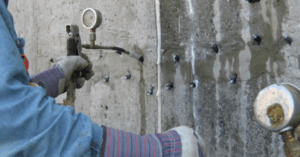 Webinar Description:
Moisture control can be a challenge for operators of hydroelectric power stations. This session will focus on educational content on a range of moisture control mitigation strategies presented through case studies.
Featured Speaker:
Brent Anderson
Moisture Control Engineering Team Leader
Brent Anderson, P.E. is the Moisture Control Engineering Team Leader at STRUCTURAL TECHNOLOGIES. With over 35 years of experience, Brent is an expert in below-grade and plaza deck waterproofing products, chemical grouting with urethanes, micro-fine cements, bentonites, acrylamides, acrylic's and epoxies. He provides forensic foundation engineering for concrete problems, including cracking, deflection, soil, and settlement. He also provides forensic foundation engineering for water leakage claims for roofs, cavity walls, air/vapor barriers, and floors. Brent often serves as an expert witness for waterproofing systems and foundation problems.