Force Protection with Tstrata Enlargement Systems™
Tstrata Enlargement Systems™ consist of specialty designed reinforcement systems combined with high-flow Tstrata concrete to produce an additional reinforced concrete layer that is fully bonded to existing structural members. Our systems combine specific surface preparation, specialized materials, and pressurized formwork to produce monolithic concrete enlargements.
Force Protection Applications
Section enlargement and bonded overlays can be utilized to improve blast and progressive collapse resistance of a structure by:
Increasing flexural and shear capacity of columns, beams, and slabs
Increasing axial capacity of columns
Increasing stiffness or deflection reduction at service levels (slabs or columns)
Increasing strength/mass that improves a structural member's ability to resist failure caused by blast
Increasing resistance to slab uplift
Preventing progressive collapse caused by column failure and/or slab uplift
Easy integration with existing structure
Uniform appearance and repair schemes that blend well with the existing structure
High benefit-to-cost ratio (durable and cost effective strengthening solution)
Inherent fire-resistance capability
Can be used with other force protection solutions, such as DUCON®, V-Wrap™ FRP, and Tstrata Steel Plate™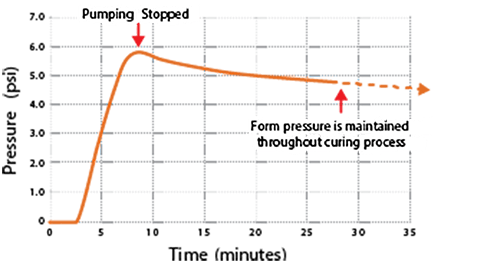 Pressure sensors inside the Tstrata Pressurized Form Technology™ show high pressure is maintained after concrete placement to ensure superior bond to existing substrate and to minimize shrinkage.
Tstrata Specialty Concrete Mixes™
Tstrata Specialty Concrete Mixes™
Our designs utilize Tstrata Specialty Concrete Mixes™ to allow for improved consolidation in thin enlargements and congested reinforcement zones, as well as improved bond with the existing structure.
Pressurized Forms
Our advanced form technology creates pressure to force the new concrete into the prepared surface, creating a monolithic interface between the existing substrate and the enlargement.
Steel Reinforcement
Our designs are reinforced with mild steel or post-tensioning to produce the required strength and improve serviceability performance.
Force Protection Design & Engineering Support
• Blast Protection
• Progressive Collapse Prevention
• Ballistics Protection
• Forced Entry Protection
• Impact Protection
• Fragmentation Protection
• Fire Protection

Force Protection Team Leader
Design-Assist & Engineered Product Support
• Investigation Support
• Solution Development
• Budget Development
• Specification Assistance
• Constructability Consulting
• Application Engineering
• Quality Control Programs
• Project-Specific Design-Assist