Adaptive Reuse Architecture
From cities and suburbs to the countryside, nearly every community contains old architecture in need of repairs or restoration. Adaptive reuse is an architectural approach that can be used to breathe life back into a historic or unused building to reduce the global fuel consumption of the building sector, meaning adaptive reuse buildings can conserve both local resources and their historic value to the community.
Whether an old Gothic-style building or an empty warehouse, these buildings don't need to be demolished to make room for new structures. Instead, they can be renovated and reused. Before a building can be repurposed, it helps to first understand adaptive reuse design, the importance of adaptive reuse and its benefits.
What Is Adaptive Reuse for Structures?
Also known as building reuse or architecture reuse, adaptive reuse is an architectural process that involves repurposing an existing structure for a new use. With adaptive reuse, old buildings can be given new life and be helpful to the community again while retaining historic features. For example, a community might want to convert an old train station into a new office space or turn an unused church into a new restaurant. Historic structures can also be converted into:
Student housing
Mixed-use venues
Community centers
Low-income housing
By retaining most or all of the building, such as the shell, structure and interior materials, adaptive reuse can update the aesthetics and resourcefulness of a building without losing its historical significance. Less time is needed to complete an adaptive reuse project than new construction, and, due to its sustainability, this architectural method can help protect our environment and improve the performance and resale value of the building.
Commercial real estate developers typically manage adaptive reuse projects due to their construction expertise and the financial capabilities needed to successfully renovate these structures. Typically, adaptive reuse requires only minor modifications to ensure the building is up to modern-day requirements and codes.
Types of Adaptive Reuse
There are different types of adaptive reuse that vary by level of replacement, remodeling and overall changes to the building. Types of adaptive reuse include:
Renovation: Typically, adaptive reuse renovation involves refinishing and repairing a structure while retaining the original purpose of the building.
Infrastructure: Adaptive reuse can also transform unused or outdated infrastructures, like open areas or abandoned green spaces being turned into parks.
Facade: Choose the adaptive reuse facade method if you want to preserve the facade of a building but demolish and modernize the rest.
Integration: With adaptive reuse integration, the original structure is preserved by being enclosed inside a new building.
Historic preservation: With this type of adaptive reuse, you can use new architectural materials to get the building up to code without losing the structure's history. You can use this approach to improve the performance of the building and reduce its carbon footprint. Without exterior additions, you can preserve a building's form, materials and integrity.
The Importance of Adaptive Reuse
Adaptive reuse is an essential architectural method for many communities. Below are some of the reasons why adaptive reuse is so important: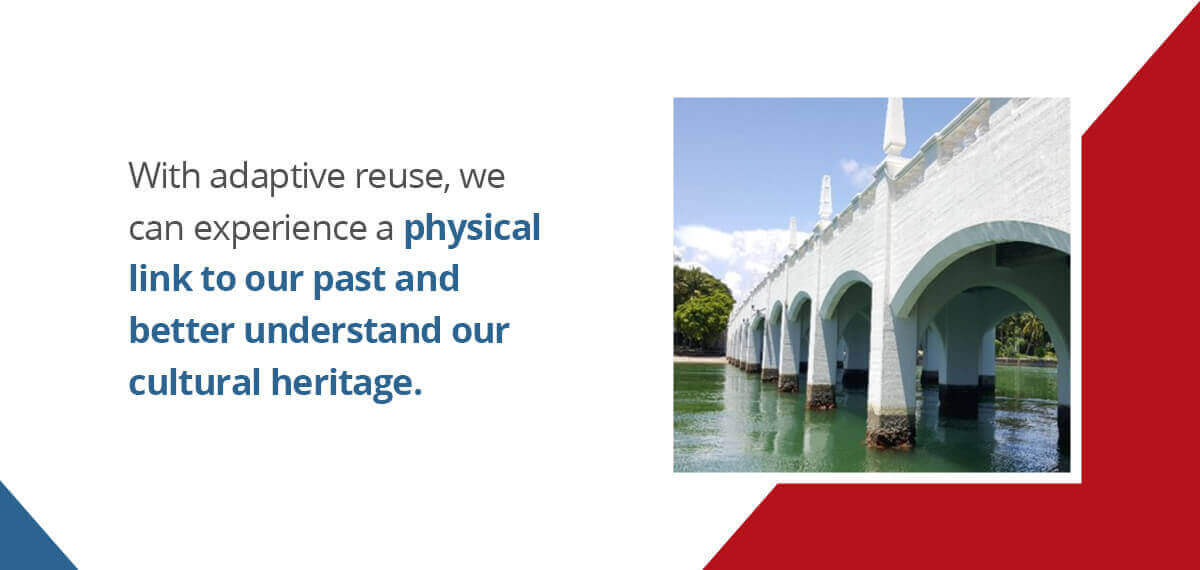 Slow urban expansion: New constructions are often built on land outside of the city center, as land within the city is typically more expensive or occupied by old buildings. As a result, urban sprawl can increase, meaning an urban area expands and contributes to air pollution, higher infrastructure costs and dangerous traffic patterns. Adaptive reuse can instead be leveraged to slow urban sprawl.
Greater odds of success: Compared to new developments, adaptive reuse projects may have a greater chance of success, as they are environmentally and economically viable. Reusing an old building can create jobs, lead to additional services for the community and reduce the carbon footprint.
Maintained cultural heritage: Adaptive reuse is used for extending the lives of buildings, which means communities that contain historic buildings can turn to adaptive reuse to preserve this architecture. Culturally significant buildings that might otherwise be demolished or left to decay to make space for new buildings can instead be restored to maintain the cultural heritage of the area. With adaptive reuse, we can experience a physical link to our past and better understand our cultural heritage.
The Benefits of Adaptive Reuse
Adaptive reuse can offer several advantages to a community. Real estate developers and investors can also profit from adaptive reuse. Some of the benefits include:
Saves money and time: One of the greatest benefits of adaptive reuse is that it saves both money and time. It can take less time to renovate an existing building than it does to build a new one with the same floor space. The renovated area can also be occupied before the adaptive reuse project is completed, so developers can maintain cash flow while other portions of the structure are being renovated.
Increases sustainability: New construction is likely to do more harm to the environment than an adaptive reuse project. Large amounts of carbon dioxide can be released when building new structures, so the negative environmental impact of a new building can be significant. By choosing adaptive reuse, you can minimize the carbon dioxide output. Additionally, if you invest in environmentally friendly utility systems, you can save on long-term operational costs.
Lowers construction costs: Adaptive reuse can be leveraged to turn seemingly useless spaces into useful structures in a cost-effective way. Though labor-intensive, refurbishing existing components of a building requires fewer new materials than new construction.
Promotes energy efficiency: Adaptive reuse also promotes energy efficiency. Demolishing outdated constructions can lead to greater waste in landfills. On the other hand, older structures that were built before the advent of modern climate control systems tend to be more sustainable, as they were constructed with thick walls and awnings designed to regulate temperature. High windows and ceilings were also included to let in natural light.
Adds value to the community: Adaptive reuse buildings are functional and beautiful and enhance communities. Members of the community can enjoy a new cultural beacon, such as an art gallery or a library. These buildings can also be converted into stylish, visually appealing structures to add some beauty to the community.
Contact STRUCTURAL TECHNOLOGIES to Get Started
At STRUCTURAL TECHNOLOGIES, we understand architecture reuse. We make structures stronger and last longer. Through our engineering support, state-of-the-art products, and repair and maintenance services through our licenses, we deliver value-added solutions to owners, engineers, and contractors. We'll support you throughout the project life cycle, from investigation to design and construction of adaptive reuse of your structure.
Our existing infrastructure products and adaptive reuse services help strengthen structures and repair them for a new life. Contact us at STRUCTURAL TECHNOLOGIES today or call 410-376-8577 to request support for adaptive reuse projects.
Corrosion Control Engineering Support
Our solution-building teams have the experience to assist in developing a range of alternatives, and provide a range of services including investigation support, solution development, cost and constructability consulting, and design assistance to help project teams select the best potential solution.
We also provide expert technical support to our repair and maintenance companies, as well as other contractors in the field, for installation of our corrosion control products, quality control and quality assurance.
Corrosion Control Team Leader
Design-Assist & Engineered Product Support
• Investigation Support
• Solution Development
• Budget Development
• Specification Assistance
• Constructability Consulting
• Application Engineering
• Quality Control Programs
• Project-Specific Design-Assist

Corrosion Control Repair & Maintenance Services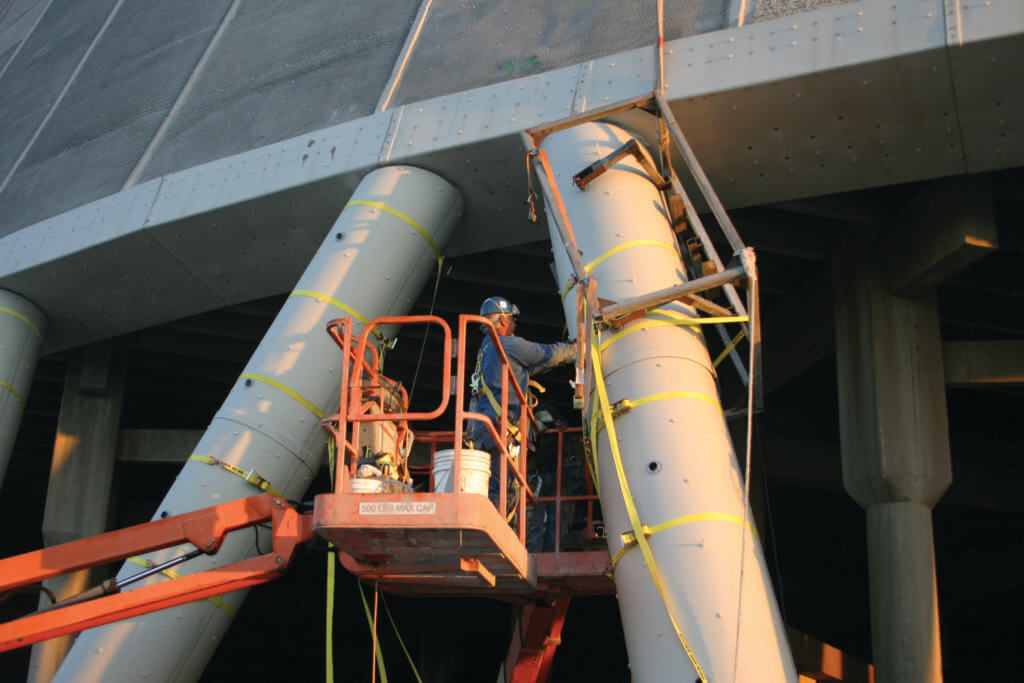 STRUCTURAL TECHNOLOGIES' contracting companies have offices across the United States and the Middle East – providing industry-leading repair and maintenance services to make structures stronger and last longer. When installing STRUCTURAL TECHNOLOGIES' corrosion control products and systems, our contracting companies provide our clients with the reassurance that our technology solutions are being installed by experienced professionals with the highest standards for quality control and safety.
Integrated Investigate-Design-Build Solutions
Combining repair services, engineered products and engineering support services in conjunction with its engineering partners, STRUCTURAL TECHNOLOGIES' companies provide an integrated Investigate-Design-Build (IDB) approach to provide a seamless process from initial design through installation with single-source responsibility.