Solutions for Corrosion of Reinforced Concrete & Steel
STRUCTURAL TECHNOLOGIES integrates proprietary products and systems with specialized investigative and design support services to provide solutions for controlling corrosion in reinforced concrete and steel infrastructure.
We offer a full suite of systems,  including both impressed current and galvanic solutions,  to accommodate a wide range of structural life expectancies, budgets, design considerations and maintenance requirements. Our products can be used stand-alone or in combination to solve complex project challenges.
When our products and systems are paired with one of Structural Group's specialty contracting companies, we can provide turnkey system design, supply and installation with single source accountability.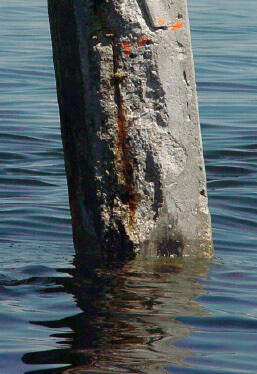 Corrosion Control Products & Systems
Technical Data
| Product Name | Product Description | Technical Data Sheet |
| --- | --- | --- |
| Corrspray® Metalizing Anode | Thermally sprayed galvanic anode for the cathodic protection of reinforced concrete. | PDF |
| ElectroTechCP™ ECU/RMS | Micro control unit that allows for centralized control of multiple distributed LRU over a communications network. | PDF |
| LifeJacket® Anode System | A proprietary zinc mesh anode placed directly against the inside face of a stay-in-place fiberglass form. | PDF |
| ElectroTechCP™ LRU | Switch-mode power supply unit capable of providing the required protective current for ICCP systems. | PDF |
| ElectroTechCP™ MCU / RMS | SCADA based software capable of performing numerous tasks related to cathodic protection monitoring and control functionalities. | PDF |
| ElectroTechCP™ TRIM | Allows remote control and monitoring of almost any type of cathodic protection transformer rectifier. | PDF |
| ElectroTechCP™ EZ Anode System | Surface applied galvanic cathodic protection system. | PDF |
| ElectroTechCP™ CAS Coating | Surface applied impressed current cathodic protection anode system. | PDF |
| ElectroTechCP™ CRM Anode | Mixed metal oxide coating for Impressed Current Cathodic Protection | PDF |
| ElectroTechCP™ CMO Anode | Mixed metal oxide for steel-in-concrete cathodic protection applications | PDF |
Corrosion Control Engineering Support
Our solution-building teams have the experience to assist in developing a range of alternatives, and provide a range of services including investigation support, solution development, cost and constructability consulting, and design assistance to help project teams select the best potential solution.
Corrosion Control Team Leader
Design-Assist & Engineered Product Support
• Investigation Support
• Solution Development
• Budget Development
• Specification Assistance
• Constructability Consulting
• Application Engineering
• Quality Control Programs
• Project-Specific Design-Assist